If you work with clients who are fat – and let's face it, we all do – it is imperative that you learn a fat politic that will guide you as you provide psychotherapy to this group of marginalized folx. Without interrogating anti-fatness and the role therapists play in upholding it, we risk causing incredible harm to our fat clients, and we are rendered ineffective in our work with them.
Grappling with our anti-fat biases and beliefs is a process. This journey, though often uncomfortable, promises that we will feel more grounded in our work with clients who live in larger bodies, secure in the knowledge that we are actively challenging our own anti-fatness every step of the way. By challenging our assumptions and engaging with scholarship, art, organizing and other liberation work by fat creators, we will begin to reimagine the world and more robustly support fat folks in living more embodied lives in it.
Join us for this full-day, interactive, in-person workshop as Sarah Landolfi, LCSW guides us in making the first steps toward becoming fat-positive psychotherapists. Sarah looks forward to partnering and collaborating with you as you do this important work, and offers ongoing consultation to therapists after the workshop ends.
In addition to providing a holding space in which therapists can begin to examine their own anti-fat beliefs and biases and how these can show up in the therapeutic relationship, this workshop will cover the following:
Assessment, diagnosis and treatment planning: anti-fat vs. fat-positive approaches

Anti-fat trauma and its impact on fat folks' minds, bodies,and nervous systems

Case examples

Ideas + verbiage to begin applying these principles in your work with clients right away

Size privilege dynamics in the therapy relationship

Unique challenges fat therapists face working with clients of all body sizes
Event Details
Facilitator: Sarah Landolfi, LCSW
Date: October 14, 2022
Location: The Hive Dance Studio, 4706 N Ravenswood Ave Chicago, IL 60640
COVID-19 Precautions: Masks will be required for all participants at this event.
6 CEUs are offered for LCPCs, LCSWs, LMFTs, and Clinical Psychologists. This workshop qualifies for the Cultural Competency continuing education requirements for Social Workers in the State of Illinois**
Fee: $300
CCIH strives to make training accessible for as many participants as possible. For this workshop, we are offering a lowered fee of $225 for students or other participants in need of a reduced fee. Contact Victoria at officemanager@theccih.com to request.
**CCIH is a licensed CEU provider in the state of Illinois. If you are a licensed provider in another state, contact our office manager at officemanager@theccih.com to inquire about CEUs.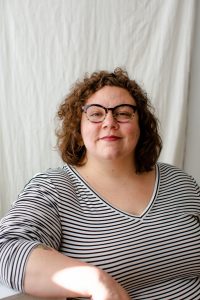 Sarah Landolfi is a psychotherapist specializing in trauma informed, fat-positive therapy for LGBTQIA+ folks. As an educator and consultant, she partners with therapists and other healthcare providers to facilitate their process of understanding, interrogating, and ultimately unlearning anti-fatness within themselves, in their work with clients and patients, and within their communities. Though her work is informed by theory and research, she privileges fat people's and Queer & Trans people's lived experience, activism and scholarship, as the most valuable resources in understanding these different systems of oppression and their fallout. Additionally, her practice amplifies fat, Queer and Trans voices and ensures that we remain focused on the goals for this work as told to us by marginalized folks themselves.

CCIH Cancellation Policy: If you are unable to attend, you may send a substitute or request a refund. All refund requests must be made in writing at least one week prior to the event and are subject to an administrative charge of $30. Alternatively, you may transfer your full registration fee to a future workshop. Cancellations and transfer requests made less than one week prior to event will not be honored and registration fee will be forfeited. Requests must be emailed to theccih.office@gmail.com and will not be accepted by phone. We reserve the right to cancel the workshop, in which case participants will receive a full refund.